UX Design • Research
Craigslist Broker App
"Craigslist makes money through a handful of revenue streams. ...the company charges a $10 fee to list an apartment rental in New York."
This is a case study for a concept
For the initial release, Craigslist wants to target their most active real estate market, New York City, where speed is crucial and apartments are always in high demand. Research shows that brokers in this area would use the app if it reduced the time it took them to list an apartment and manage responses from prospective tenants.
MVP: an app that reduces time it takes to list an apartment and manage responses from prospective clients
Getting acquainted with current product landscape
Spent time reviewing Craigslist's functionalities. Learning about how users navigate through the space and how brokers are currently posting their listings through the web app.
Understanding the competitive landscape
Key takeaways:
Apps that are successful work well because the users have easier access to what they're looking for, as opposed to having to click on too many options before their desired result shows up

Users prefer using apps that are specifically for apartment hunting, when using apps

Apps that are good for what the users are looking for make the process intuitive and convenient

Users prefer the convenience of having their preferences stored and emailed to them (eg: Trulia and Zillow send emails if new listings show up that match your preferences)

...more info
There is a lot of information on how to make your listings stand out on Craigslist for Brokers (I used this to make informed design decisions to help our Brokers succeed)

Craigslist is actively working on reducing spam and fraudulent postings

Craiglist's official app has a major design flaw and it's impossible to post via the app. You are redirected to the webpage (where you have to start over)
IDENTIFICATION
Delving deeper into our user's needs and challenges
[User Profile]
Betty Anderson
Broker, NY
Betty works for a real estate agency in Manhattan. She plans to list 15 different apartments on Craigslist this weekend. They vary in price and are concentrated in three Manhattan neighborhoods: the Upper West Side, Chelsea, and the Financial District.
Using the new mobile app, Betty can expect to receive about 1,000 responses a day.
Betty's needs and core activities:
Improve her visibility

Posting listings on CL allowing her to reach a wider audience

Research. Though it might not be her go-to, Craigslist helps her better understand the competitive landscape

Listings help her know how to stand out (there is a lot of information on the internet on how to do that)

Financial research — helps her price her listings competitively
Cost effective option for A/B testing

...more about brokers and their clients:
For clients it's all about "Location, location, location!"

Most listings / descriptions already exist in a system and brokers tend to copy- paste that into their listings

Brokers prioritize clients with a closer move-in date

Also prioritize clients that have been pre-approved or they have worked with in the past

Features and amenities are great but they're secondary when clients are moving into a place
Craigslist's (business) goals:
Make it faster for brokers to list their rental homes

Make it easy for brokers to sift through their emails

Speed up the posting process overall to encourage more activity and engagement

Speed up response time, so brokers can connect with potential clients faster

Increase revenue through encouraging more Broker listings

Craigslist's current user flow:
Reviewing and drawing inspiration from successful products
[Award-winning sites make for great inspiration!]
Going through the process of posting listings allows for an in-depth experience. I used apps that have been widely recognized for their outstanding user experience and visual design.
Home.ly
my attempt to post a listing was unsuccessful because you need to be a real Real Estate Agent in Australia
Airbnb
an incredibly seamless experience
with sweet illustrations and engaging copy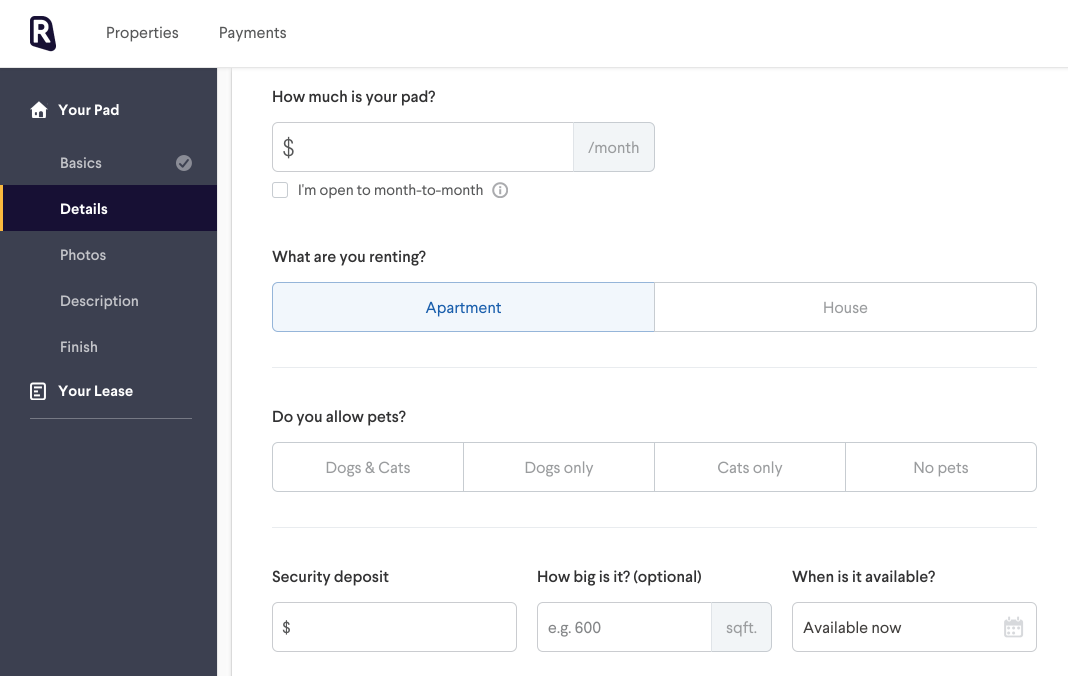 Radpad
smooth experience with lots of white space. Posting an apartment felt almost alarmingly easy!
An app that focuses on Betty's primary needs
1. Allows Betty to post faster
2. And to sort through her responses promptly
Phase 2*
*[Since these ideas would take longer to implement and are a little more technically challenging, they can be reserved for Phase 2 of the applications build out. ]
Since most listings exist in the system, another way to expedite the process would be to allow brokers like Betty to copy paste the URL of an existing listing, into the app. Bots can automatically gather all the information. All Betty has to do is review the listing, pay and publish it!
Similarly, we could take advantage of another essential broker tool — apartment sell sheets / flyers. By taking a picture of a sell sheet, the app can gather all the essential information.
Conclusion
By making a few informed decisions and reframing their form, Craigslist can create an experience that allows for Brokers like Betty to post their listings faster and to navigate through their responses easily.
Meeting both, the user needs and the business goals. (cha-chhhing!)