WW WellnessWins
WellnessWins is a rewards program launched as a part of the historic WW (formerly Weight Watchers) rebrand.
A pivotal transition for the company from weight-focused to an overall leader in health and wellbeing.
Discovery
Paired with my talented UX designer, we set off to explore new horizons and possibilities, based off the success of the pilot. Our goal was to drive behavior change that will lead to higher engagement with the program and build sustainable healthy habits by acknowledging and rewarding healthy behaviours.
During our discovery process:
• We analyzed member pain-points and highlights from the pilot
• We explored other companies who work on behavioural change and have successful rewards programs: Duolingo, Sephora, Starbucks, Fitbit, Headspace
• Explored gamification principles and actively participated in workshops
• We worked closely with the science team and learned the science behind and applied behavioural change methods
The Rewards Pilot
At the inception of the rewards program, it was an email-based pilot, that had favorable results. We were given six months to breathe a new life and turn it into an in-app experience — now known as the wildly popular WellnessWins program.
The UX/UI for the app was going to be a fresh concept. We had guidelines to follow from the success of the pilot and key features that had been established
Credits: members earn credits by doing specific behaviours like tracking breakfast, lunch, dinner, activity, weight and attending a meeting

Progress: a way to see the credits they are earning and the progress they're making on their journey

Physical rewards: members can see what rewards are offered and how many credits they need to redeem physical rewards

Other: for the future we had to consider physical charms for particular member milestones, Challenges, weekly emails and Badges members could potentially earn
User Testing
Option 1
Progressed-focused program that showcases the actions to take and the total number of credits that can be redeemed by doing so.
This option was focused on intrinsic motivation
Option 2
Rewards-focused program that highlights the rewards that the members might be working towards or motivated by.
This option was focused on extrinsic motivation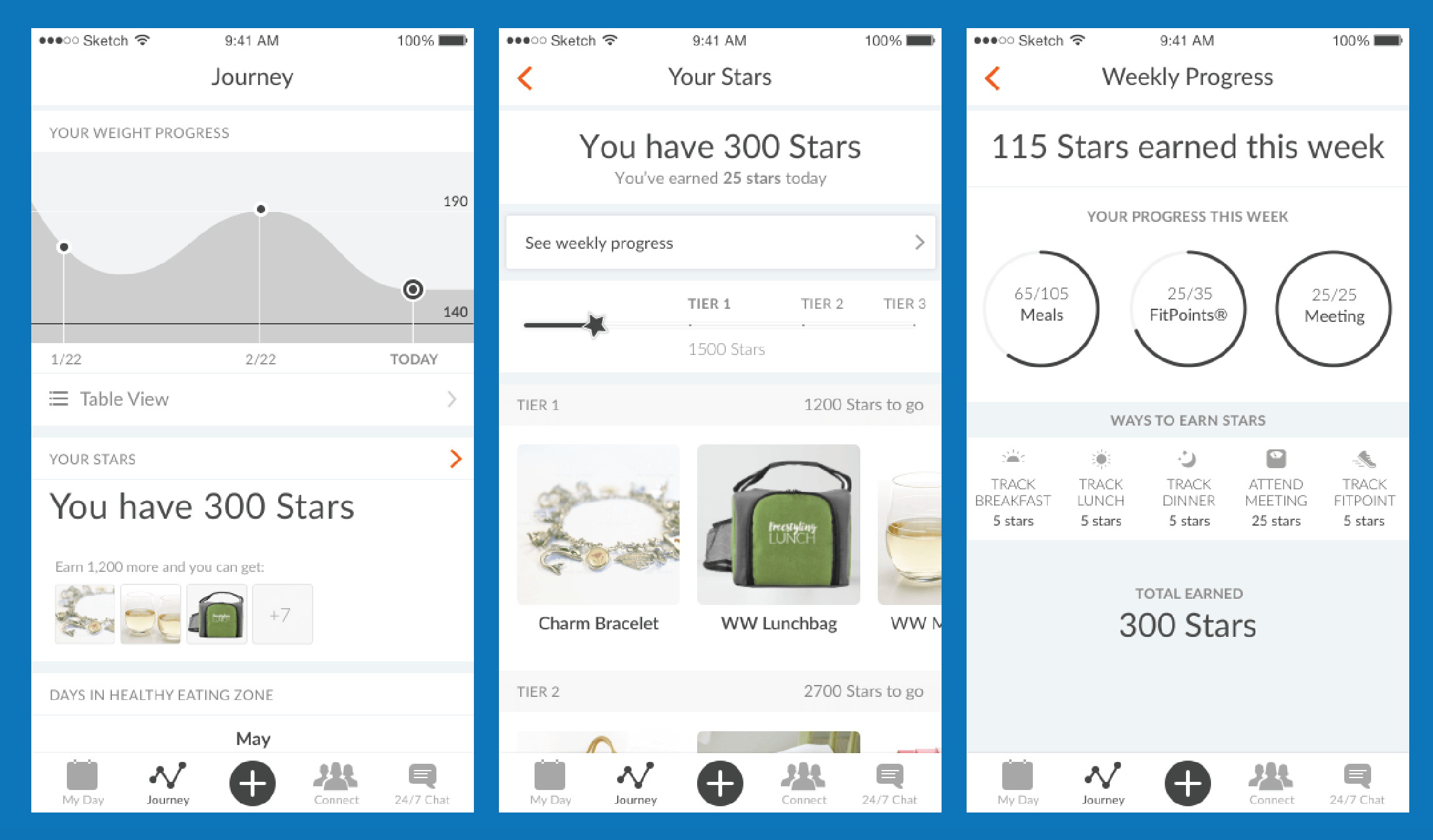 "Option 1: Progress-focused flow" was the clear winner of our initial tests.
This set up the direction for us to continue building the product.
*These are real member posts from the WW online "Connect" community